And the pattern is Swinging Hipster all the way.
Even the instructions are OLD.
These guys need a cigarette.
Seriously, could it BE any cooler? I chose view 2 for Big Daddy (and because I didn't want to futz with the sleeves or creepy hip pockets). I had some vintage wool with a few moth ho--- er, with some
character
and got cutting. Not without help, natch.
You're doing it wrong.
I'm hiding.
And thank goodness for all that coaching!
First time I've ever sewn a men's shirt, first time with this pattern, first time with this fabric and first time making something for Big Daddy that wasn't angry mending (more on that in a future post).
And it doesn't suck!
Detail at collar, also omitted button & loop closure.
Love the lining. So retro.
The instructions were VERY difficult for me to decipher due to previously stated limitations. When I wanted to cry, I got up, walked away and reminded myself, "It's a SHIRT, for fuck's sake. CHILDREN in BANGLADESH sew them by the THOUSANDS." And I'd come back, tears drying and hope renewed.
Here's the side all pretty. The front is slightly shorter for whatever reason justifies it.
The back looks nice too.
Seen here too!!
Aaaand HERE!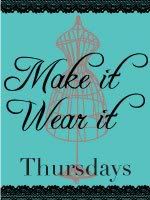 Here, too.